Among the comments on the Economist web site about the recent death of Steve Jobs, the vast majority praising the man like he was a saint and a spiritual guru, one shined for its insight:

"A great quote from Slashdot: "From the fall of AOL to the rise of iComputing, we had a 12 year golden age where walled gardens were derided, people owned their own devices, and the landscape of the internet formed more or less naturally."

RIP, Steve, but as much of a visionary as you were, I hope that your passing away will contribute to giving us back the openness in computing, that same openness that you did so much to destroy."
Steve Jobs was a dangerous man. He did more than anyone else to destroy the concept of open platform, and in general to jeopardize the consumers' right when dealing with computing.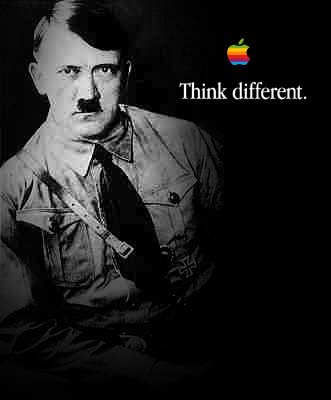 Apple under Jobs has embraced an approach which can be summed up as: remove choice. According to Apple, the end user must be given practically no voice on how they should use their devices. Apple knows better. Apple will decide for you. When Apple says Think different it really means "Let us think for you".
This can be just a very clever marketing approach if it's about operating system interface customization, or limited number of models available. But it becomes a real nightmare with the app store model, which Jobs popularized.
App stores like the ones for iPhone and iPad mark the shift from a world where:
– there are *platforms* like computers which have a known interface, on top of which everybody can write software and distribute it
– there is an Internet which is accessed by open, public protocols
to a world where:
– the platform is closed and apps have to be explicitly approved by the platform manufacturer (and they can be censored/retired at any moment, at the manufacturer's whim)
– Internet services are accessed by close, independent apps
Mind you, this is not theory or catastrophic thinking. This is the reality that every iPhone user keeps in their pocket. Censorship of apps and content the Apple app store is an even too infamous fact: just for the record, read this for a quick recap of what is the issue about (even very mildly) sexual content, or this in China (where Apple chooses not to think so different from the government), or how it attempted to censor satire.
Now, one could think that it's just my problem: if I don't want that, I don't buy Apple, and fine. This is true, but it is only part of the problem. The real issue is that Steve Jobs made this kind of approach viable and respectable. He not only made a model which takes away freedom from the user acceptable: he even made it enthusiastically embraced. Jobs really was a marketing genius: he twisted reality, in his customers' minds, up to making them believe that he was giving them freedom, when he was only giving them expensive, shiny tools that took away their freedom -even worse, that removed their need for freedom. Love of the Big Brother has never been as real as in Apple fans. And if Apple has been successful this way, why shouldn't its competitors follow it? That's the danger.
One could object: well, it's just phones. But what will happen if and when such an approach extends from iPhones to desktops and laptops? This is not at all far fetched: the iPad is the natural step towards that. Do we want a computer where Microsoft, or Apple, or Google will control what applications will run and which won't? What content we can access or not? What we can read, see or even talk about? This is not crazy talk. iPhones and iPads already behave like that.
Steve Jobs was a genius, true: a genius of deceipt and marketing, capable of misleading otherwise brilliant creatives and learned professionals, guiding them into the cult of "Think different" -by stopping thinking and following Jobs vision. Humans are all too prone to do all the same thing by making them believe they are unique: Jobs understood that and exploited that to the end. This made Jobs incredibly dangerous, because he was mind-bogglingly capable of selling his snake oil under the sexy, glamour gadgets he sold.
"Stay hungry. Stay foolish", he said, and his fans now repeat as a mantra. Yes. He wanted everybody to be foolish enough to buy his swindle, to be hungry enough to want his gadgets.
That's why the death of Jobs is a relief. He hypnotized everyone for far too much. After him, we can try to hope that the future of computing will be again in the hands of the users.